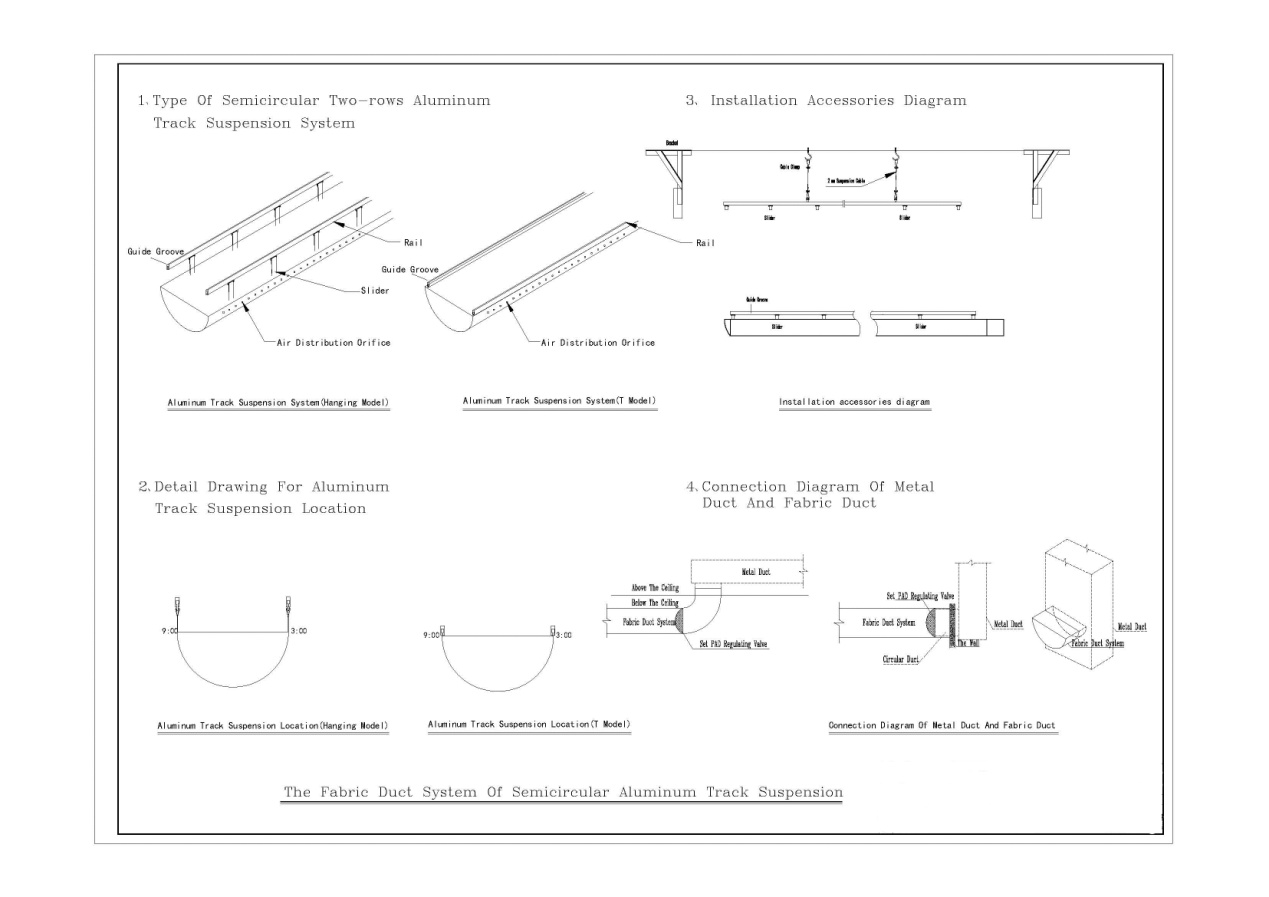 Profile:
Classification from the sharps, quadrant section fabric duct apply to fixed in the corner of the places with suspended ceiling, save space and make it more beautiful, suitable for the lobby of hotels.
It is an energy-saving, comfortable and convenient ventilation system originated in Europe and the United States, apply to the industrial workshops, stadiums and manufacturing shops etc large places with flame retardant requirements.
All the fabric of our fabric air duct can pass Chinese B1 FR standard, and has been tested after 50 times washing. We're the one of the few manufactures supply both fabric and fabric duct.
Fabric air duct VS Metal duct
Advantages of fabric air duct:
Ⅰ.  Massive air outlet, big air volume and no wind-feeling.Fabric air duct use micro seepage or micro porous as the outlet,so the area of the outlet is big, big air volume, low air speed, no wind-feeling, the comfort level is greatly improved.
Ⅱ. Uniformity of air supply. Fabric air duct use the micro seepage and micro porous to replace the traditional air diffuser, then every point has steady air flow.
Ⅲ. Anti-condensation. There's the micro seepage function on the fabric surface, at working time, there's almost no temperature difference between inside and outside of the duct, so it won't be condensed, and needn't heat preservation.
Ⅳ. Easy to clean and maintain. Fabric air duct is easy to disassemble and wash, compare with metal duct, it can save much more cost of maintaining.
Ⅴ. Beautiful and high-grade. There's many colors can be selected, and can be customized.
Ⅵ. Light weight.  Fabric air duct is made by polyester fabric, the weight is very light, just 1/40 of metal duct, so it can be used for the ventilation system of the places without bearing capacity.
Ⅶ. No noise. With low air speed, no resonance, keep quiet at the working time.
Ⅷ. Easy to install. Shorten the finishing time of the project greatly, installed with cable line or tracks, just 1/10 of the metal duct.
Ⅸ. Low cost. It has low cost of the maintain and running, it's effective.